The Apollo Presents A New York Premiere Opera
WE SHALL NOT BE MOVED
FRIDAY, OCT 6 / 8:00 PM  &  SATURDAY, OCT 7 / 8:00 PM
Music by Daniel Bernard Roumain
Libretto by Marc Bamuthi Joseph
Directed & Choreographed by Bill T. Jones
Conducted by Viswa Subbaraman
Experience this genre-defying opera that combines spoken word, contemporary movement, video projection, classical, R&B and jazz influences. Inspired by the 1985 MOVE crisis in Philadelphia where a standoff between police and a Black liberation group resulted in the deadly bombing of a residential neighborhood, We Shall Not Be Moved explores that legacy today through five Philly teens who find power in family and resistance.
Doors open approximately 60 minutes prior to each performance. It is strongly recommended that you arrive no later than 30 minutes before your show as We Shall Not Be Moved has a strict No Late Seating Policy. Use of cell phones during the performance is prohibited. Latecomers will be asked to wait in the lobby until intermission. Should you arrive late, there will be a video monitor in the lobby where you may watch the performance until you are seated.
NEW YORK TIMES REVIEW
"We Shall Not Be Moved," by the composer Daniel Bernard Roumain and the librettist Marc Bamuthi Joseph, inventively directed by Bill T. Jones, has generated the most attention, for tackling roiling issues of race and inequality. (It's playing next month at the Apollo Theater in Harlem, en route to London).
This raw, engrossing work looks back at the deadly 1985 incident when Philadelphia police, following several fractious standoffs, dropped bombs on a rowhouse that housed Move, a group of black separatists. Rather that revisiting the incident directly, the opera depicts a crisis in the lives of five North Philadelphia teenagers in 2017, runaways who form their own family. They take refuge in an abandoned house that turns out to be the former location of Move, inhabited by slinking dancer ghosts.
Mr. Roumain skillfully folds gospel, funk, jazz and contemporary classical idioms into the score. In a post-performance conversation with the audience, he said he hopes the piece "changes the notion" of what an opera can be.
It does, though less because of the hybrid musical style than the inclusion of long stretches of spoken text, accompanied by variously hazy, reflective and agitated stirrings in a seven-player instrumental ensemble. Mr. Joseph's poetic words, whether sung or spoken powerfully, animate the storytelling, especially as delivered by Lauren Whitehead, a poet and dramaturge. She is riveting as Un/Sung, who becomes the motherly protector of this hurting teenage family.
The fine bass-baritone Aubrey Allicock brings aching intensity to John Henry, who is critically wounded during a panicked confrontation with Glenda (Kirstin Chávez), a Latina police officer: a "brown girl," as she sings, who "bleeds blue." The clarion-voice countertenor John Holiday breaks your heart as John Blue, a transgender man embraced by this new family.
At one point, bitterly reflecting that it hardly matters that the public schools can't open on time, Un/Sung says, "On the first day, our cafeteria would still have smelled like a decaying future." At its best, this opera comes across as an anguished requiem.
About the Opera
This invigorating chamber opera, is "ambitiously interdisciplinary," according to Tony-Award winner Bill T. Jones (Fela!, Spring Awakening). He's joined by Daniel Bernard Roumain, a Harlem based composer whose music blends genres into a vital, experiential sonic form and Marc Bamuthi Joseph – the acclaimed Haitian-American librettist whose bold poetically-driven work investigates social issues and cultural identity.
The Making of WE SHALL NOT BE MOVED
Chapter One: Truth

Go behind the scenes of the world premiere opera WE SHALL NOT BE MOVED by composer Daniel Bernard Roumain, librettist Marc Bamuthi Joseph, and director-choreographer-dramaturge Bill T. Jones. This multi-part documentary explores how this poignant new work found its way to the stage.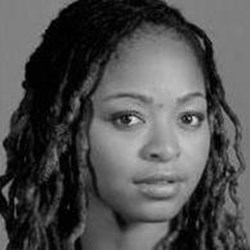 WE SHALL NOT BE MOVED | OCT 6 & 7
Sponsored by

Leadership support provided by Ford Foundation and Rockefeller Brothers Fund.  Additional generous commissioning support provided by the Ed Bradley Family Foundation.